Overview
Mable is built for you to do all your ordering in one place. Coordinate procurement from your distributors, direct brands, and even vendors not yet on Mable.
Ordering from the Mable Marketplace
The Mable Marketplace enables you to explore and order from any of the hundreds of brands on our platform. You no longer need to submit inquiries or manage payments with each individual brand, simply add items to your cart and checkout all at once.
To discover what the Marketplace has to offer, click on the Marketplace link to view new items, trending products, and more.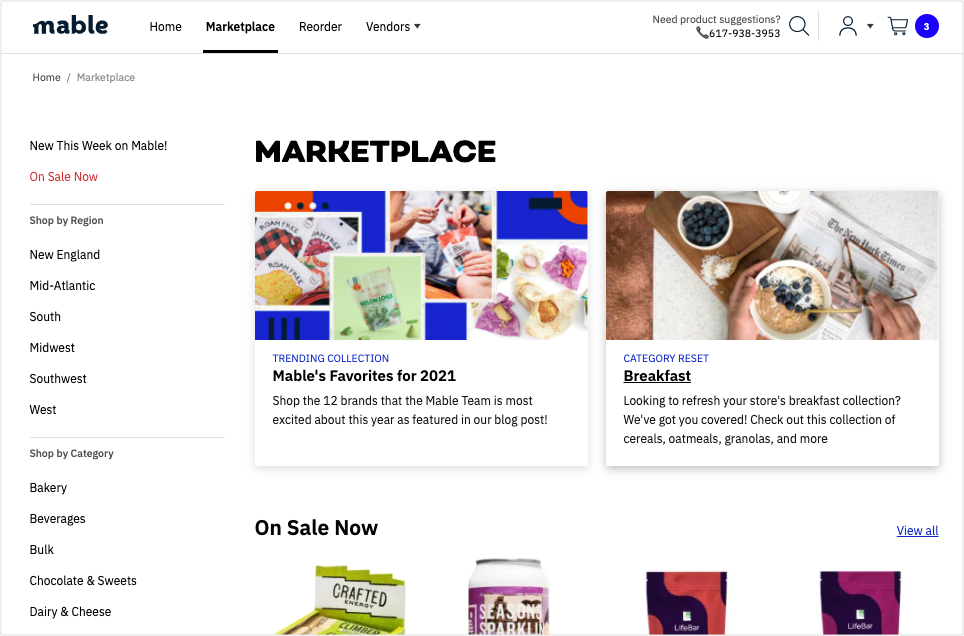 You can also shop by region, browse by category, and filter by dietary needs.
Search our platform to find the next best seller for your store.

If you need a hand with product suggestions, send us a note at sales@meetmable.com or give us a call at 617-938-3953 and we're happy to make additional recommendations as well.
Once you place your order, you'll receive an order confirmation email from Mable. These brands will ship directly to your doorstep and all payments will occur through Mable. You'll receive an email once a brand updates tracking information and another email when the invoice is ready for your review.
Each vendor you order from will be added to your Reorder page for faster future reordering.
Reordering from your vendors
Reorder from any of your vendors immediately by navigating to your Reorders page and selecting their name. Toggle the Reorder button next to each product to add items to your cart.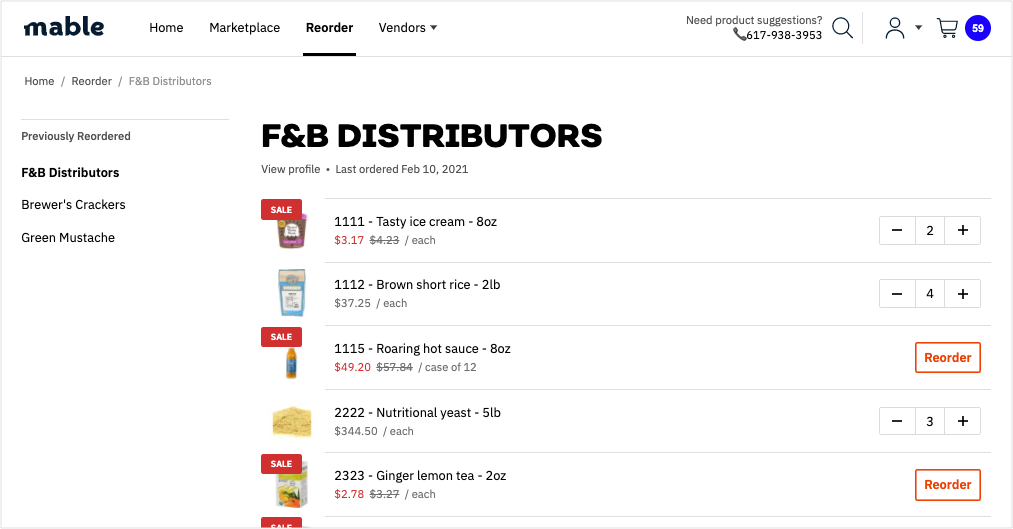 If you'd like to browse a vendor's full catalog, click on the View full catalog > link at the bottom of your reorder guide.
For distributor orders
The Reorder page makes ordering easier from your distributors, too.
After you check out from a distributor, we'll send you a confirmation email and your distributor will receive a purchase order. They'll fulfill your order and your existing pricing, terms, and arrangements with them will hold. You will receive and pay invoices from them directly.
If you have a distributor you'd like to add to Mable, reach out to us at sales@meetmable.com and let us know.
To order from vendors not listed on Mable
You can consolidate the rest of your ordering on Mable with our Instant PO tool. For details on how to add vendors not listed on Mable, click here.
For these vendors, we'll send POs on your behalf. Your existing pricing, terms, and arrangements with them will hold. You will receive and pay invoices from these vendors directly.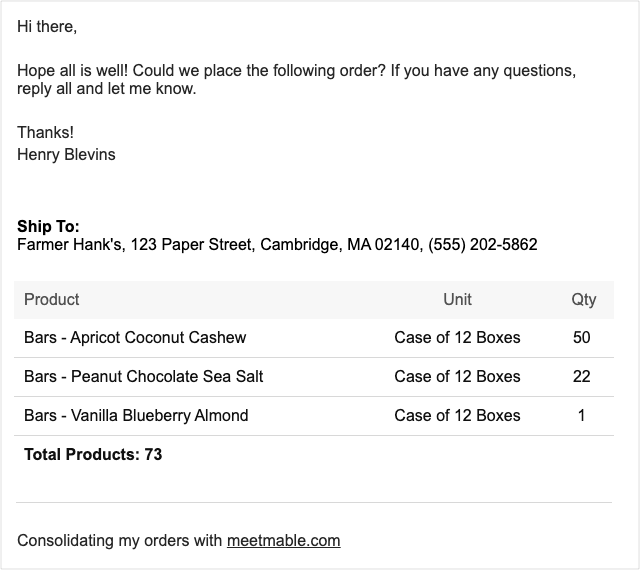 Your personalized dashboard
As you order and browse on Mable, your home dashboard will update to show you items and to-do's most relevant for you.
Whether it's reminding you about an upcoming order or alerting you to a new best seller for your customers, we hope your dashboard makes it easier to run your wholesale business.