Mable Sample Program overview
Sampling is critical for buyers and sellers in the grocery industry. We've embedded sampling features into how you can grow your wholesale business with Mable.
How do I fulfill a sample request?
The Mable Sample Program for brands adds a Try a Sample button to your Mable catalog.
When you receive a sample request, you'll also get an email with a few details about the prospect and the request.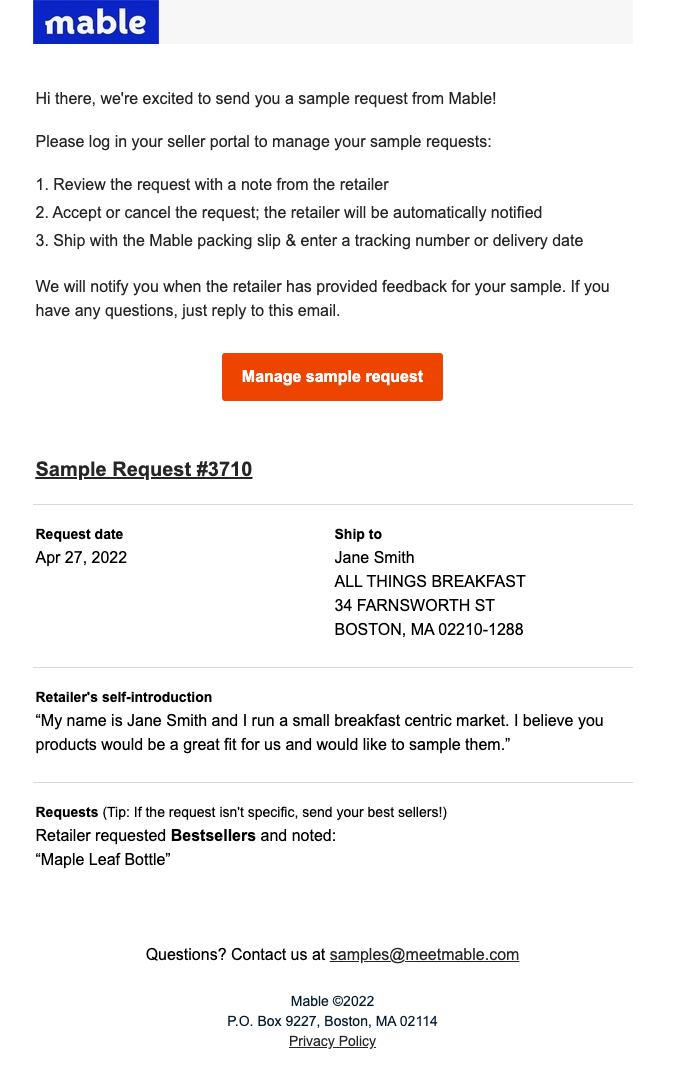 3. To accept (or reject - more here) a sample request, click the Manage sample request button in the email or visit the Samples tab in your seller portal. The Samples tab is where you can track all of your sample requests.

4. Click into the sample request (you'll skip this step if you've clicked through the email) and click I will fulfill it or Cancel request depending on how you'd like to proceed.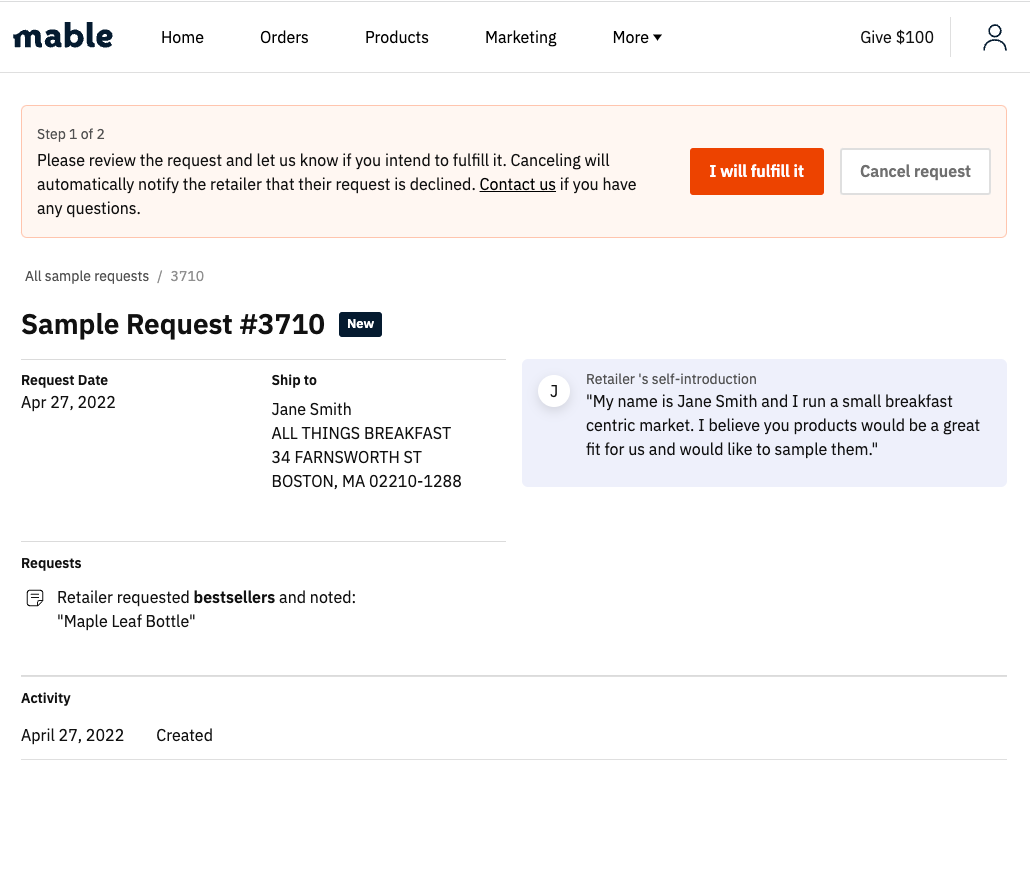 5. If you accept the sample request, you'll be prompted to add shipping (tracking) information once you have it. You can also self-deliver a sample.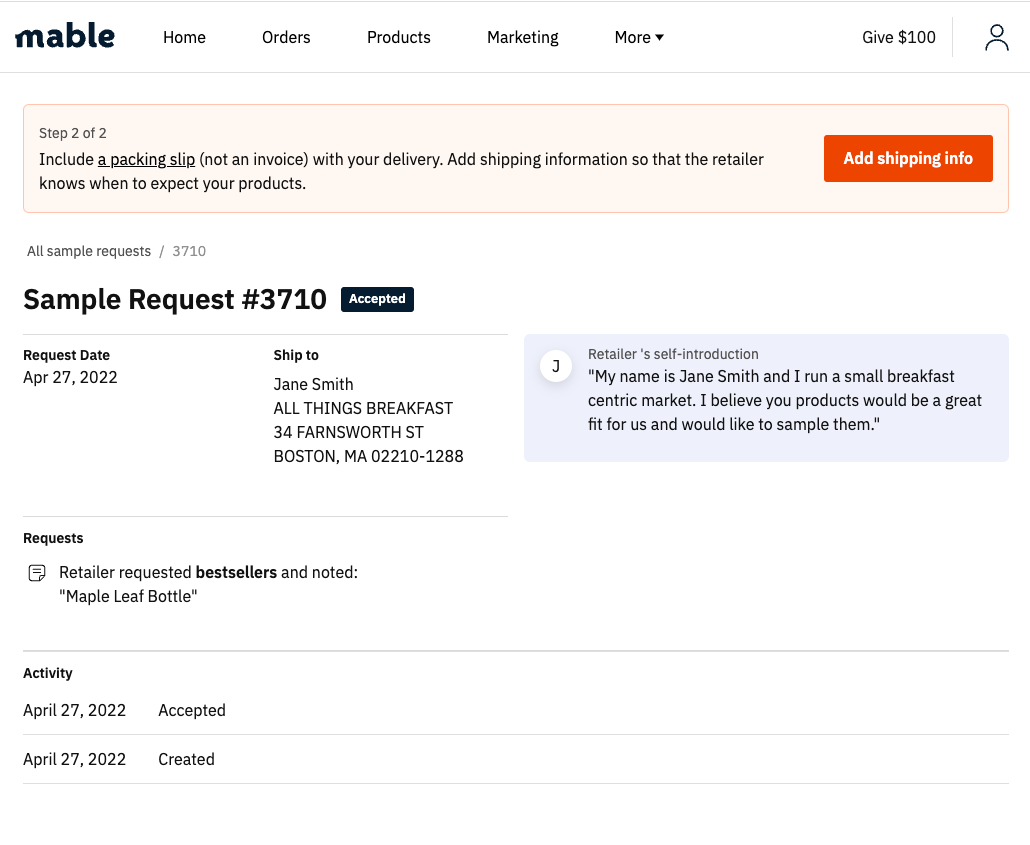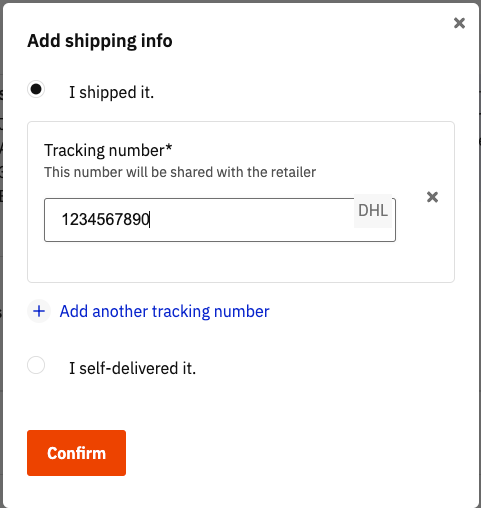 6. You're done fulfilling the request! Now the sample request will show as shipped. You'll receive an email once the prospect shares their feedback. You'll also be able to see feedback on the sample request in the seller portal.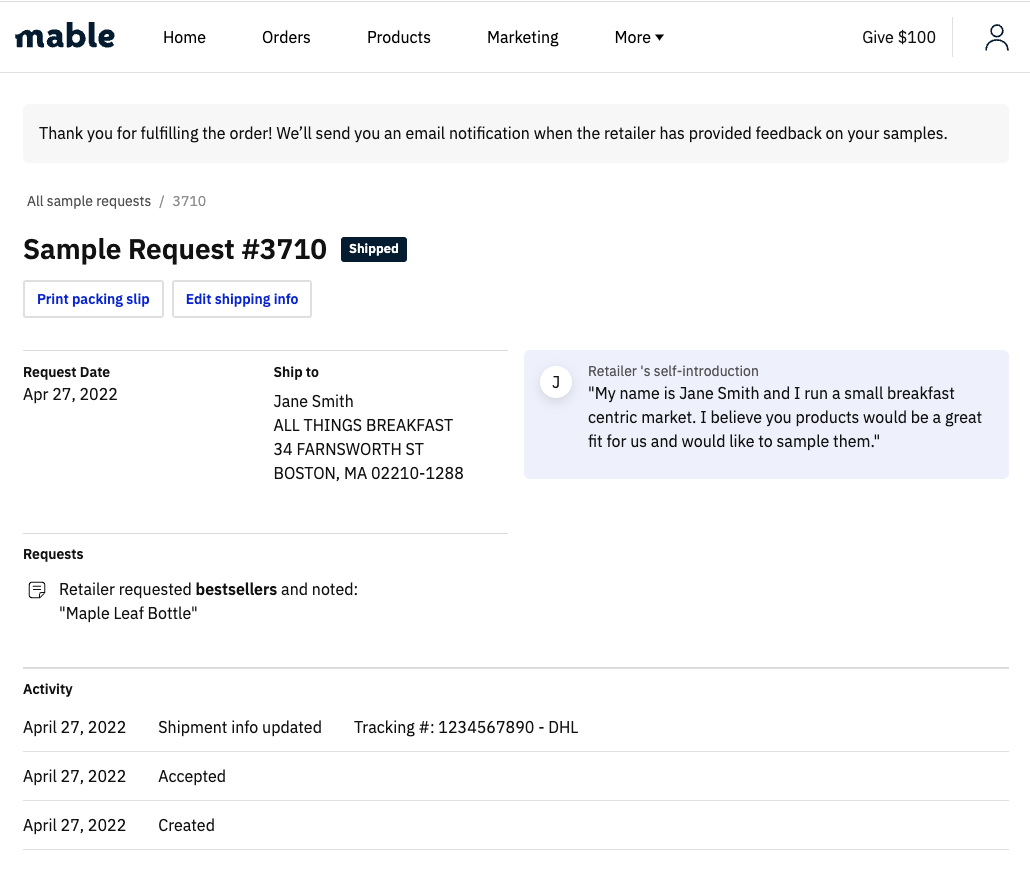 What does the sample program cost?
It's free to join the sample program. Once your brand receives a sample request, you'll (your brand) cover all costs related to the sample. This includes the cost of the product and any shipping costs. Mable does not split shipping costs for samples.
In exchange for paying for the sample, your brand will either receive:
Direct feedback from the prospect about why the product isn't a fit, or what would make it a fit - if the buyer doesn't intend to place an order.
A new relationship, if they do place an order after trying the sample!
Is my brand automatically enrolled in the sample program?
No, but all brands are eligible to join the program. Follow the steps below to enroll below.
How can my brand join the sample program?
Visit the Store tab in the portal (or use this link)
Scroll to the bottom of the page to the "Settings" section
Under "Sample program" select "Yes" to join!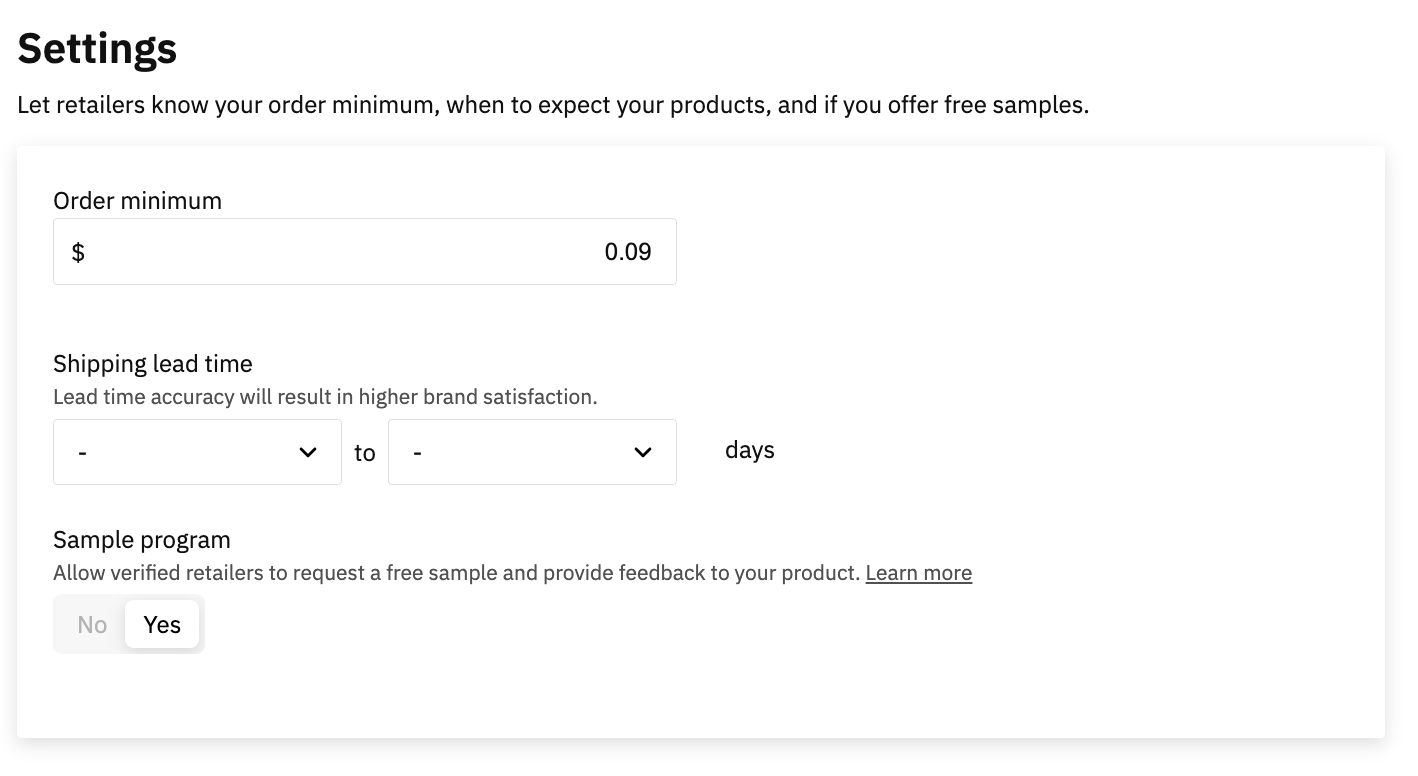 Should I add a sample SKU to my Mable catalog?
Not necessary! Retailers can currently request a sample of any of your products, but you'll choose what to send to the prospect. We recommend either fulfilling what the buyer is asking for or sending your top seller.
Can I offer a paid sample SKU on my Mable catalog?
No, at this time Mable does not support paid sample SKUs.
What information does my brand get about the prospect (who requested a sample)?
Retailers fill out a self-introduction when requesting a sample. Typically they'll share their store's story, location, and why they're interested in trying your brand. They'll also include a request - like what product they'd like to try.
Can I reject a sample request?
Yes. You can reject a sample request if it's not the right fit for your brand. We just ask that you give us a reason. You can reject (or accept) sample requests from the Samples tab in your seller portal or via the email you'll receive when you get a new request.
Where can I manage my sample requests?
Manage sample requests in the Samples tab in your seller portal!
https://www.meetmable.com/vendor/samples
Who pays for the shipping costs of the samples?
Brands pay for all sample costs - including shipping. For more information about shipping with Mable, visit the shipping announcements page (for brands) here.
Can I send samples to a list of prospects?
Yes! Try our Prospecting with Samples tool. It's a marketing campaign tool designed for acquiring target accounts through samples. More information on this tool here.
Who can I contact with questions?
samples@meetmable.com