The customer list in the seller portal is a powerful tool for you to manage and interact with your Mable customers. At its simplest, it will provide you with an overview of your retailers on Mable.
The following characteristics per buyer are shown in your list:
Retailer name:

Click on the retailer name and see a list of your orders from that retailer

Last order: Time since each retailer's most recent order

Click on the last order date (example: 4 days ago) to see more details about that order

Order status: Status of each retailer's most recent order

New: Pending order to be accepted

Accepted: Order awaiting shipment

Shipped: Order has been shipped

Canceled: Order was canceled

Orders: Number of orders each retailer has placed with you on Mable

Click on this to view a list of your orders from the selected retailer

Total spend: Total dollar value of products each retailer has ordered from you

Last message: If messages have been sent, the time since the most recent message was sent (either by you or the retailer)

Blue message icon: Click on this to send a message to the retailer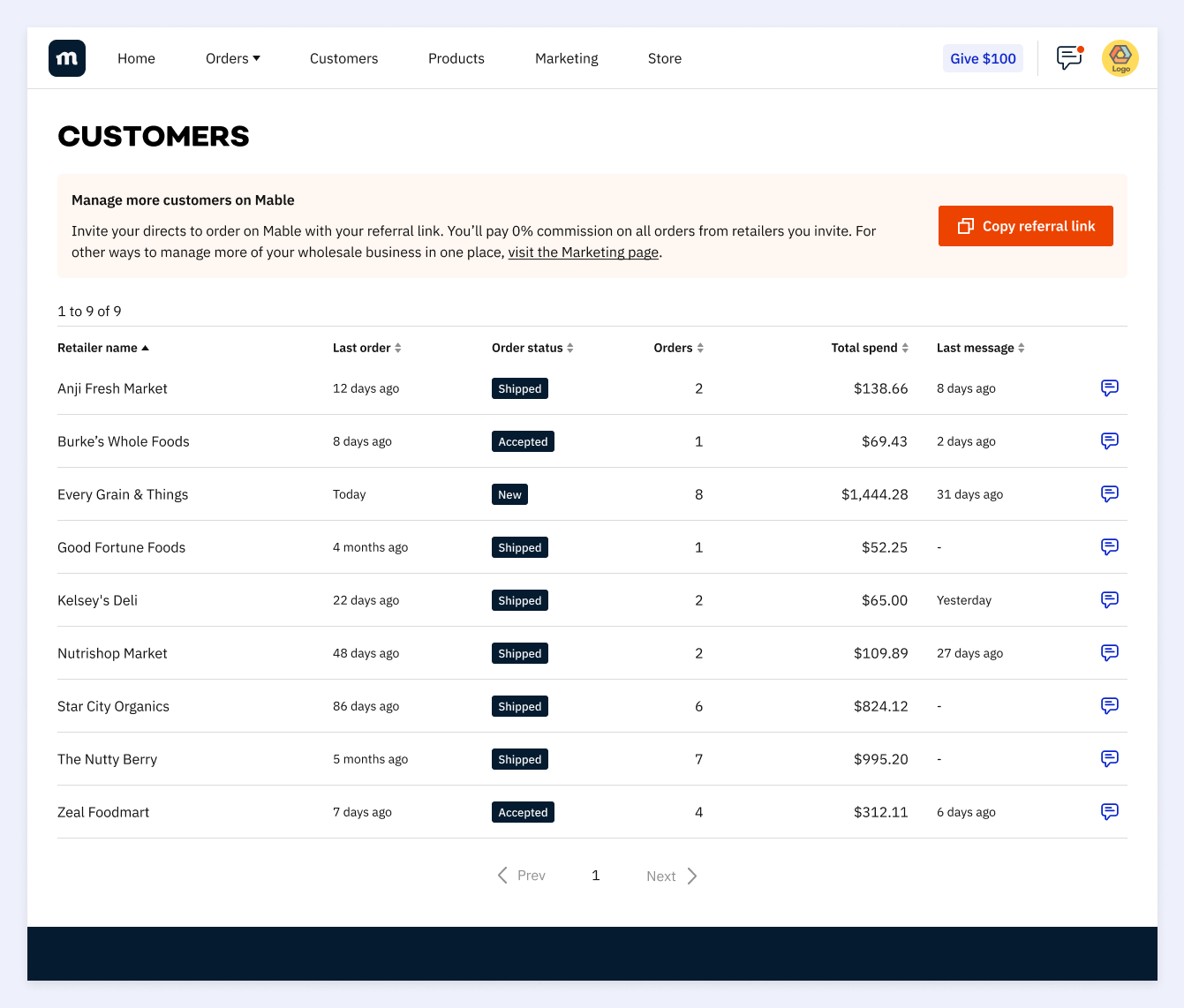 Who shows up in my customer list?
Your customer list is automatically populated with retailers who have placed an order with you on Mable. Check out the Marketing & Promotions FAQ to find ways to connect with potential customers.
How do I use the customer list to interact with my retailers?
Send your retailers an order update
Using the message icon, you can quickly navigate to your conversation with the retailer to communicate any order-related information (See

How do I contact my retailers on Mable

for more details)

The customer list will allow you to sort by column - sorting by the "Last order" column will allow you to quickly identify retailers with recent orders

Many retailers appreciate order updates!
Re-engage with lapsed buyers
Using the message icon, you can quickly send a re-engagement message to buyers you haven't seen for a bit

By sorting the "Last order" column, you can quickly identify retailers who have not ordered from you in awhile

Retailers love samples - consider offering a former buyer a sample to remind them of how great your product is!
Announcements
You can leverage this list to announce things like new products or if you are

running a sale

Let's keep our community positive! Nudge, don't nag. Be sensitive. Be nice!